"Hello my name is Glenn Dyer and you are watching a Dyer-Situation." - Dyer-Situation opening line
A Dyer-Situation was the longest running Dyercentral series, totalling 417 episodes over five years. It was a vlog style review show wherein the creator, Glenn Dyer, joined occasionally by some friends, would give his opinions on a movie he saw. The show had its final episode in September of 2017.
Overview
Edit
Synopsis
Edit
Each episode follows the same basic structure. Glenn opens the video with his initial opinion on the movie he is about to see. The video then cuts to after the film where Glenn gives a full and detailed analysis of the film as best he can. At the end of each year there is a "Best & Worst" miniseries that ranks up what Glenn feels to be the most noteworthy films of the year.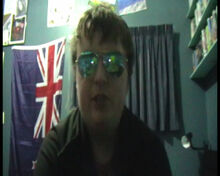 Production History
Edit
The first episode, a review of Dark Shadows, was filmed on a whim when Glenn Dyer decided to record his thoughts after being inspired by the Nostalgia Critic. Later episodes in the early days refined and polished what would become the Dyer-Situation formula, including the solidification of the theme song, a standardized opening and closing statement, and the iconic "Before and After" device.
In 2015 the show began a massive increase in video output, averaging about 2-3 new episodes a week and boosting the yearly amount from ~20 to well over 100 shows a year. Shortly after a spotty upload schedule in 2017 Glenn Dyer announced that the show would be cancelled in the next few episodes. He cited a lack of enthusiasm and consideration for his future career as the two main reasons for the cancellation. The final episode concluded with a montage of some of the most memorable moments in the series.
Theme Songs
Edit
Main Theme - "Money for Nothing" by Dire Straits
Best and Worst Themes

Best

2012 - "You're The Best Around" by Joe Esposito
2013 - "Happy Days Theme Song" by Norman Gimbel
2016 - "Careless Whisper" by George Michael

Worst

2013 - "I'm so Tired" by The Beatles
2016 - "Moonlight Sonata" by Ludwig van Beethoven

"Meh"

2016 - "Girl from Petaluma" by Cocktail Shakers

Final Montage - "Imagine" by John Lennon
The "Before and After" segments were introduced after a suggestion from Alex Kawecki.
See Also
Edit
Community content is available under
CC-BY-SA
unless otherwise noted.