For the character who the show is based on, see Chadwick Jones .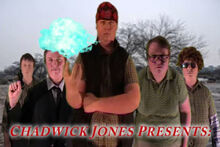 Chadwick Jones Presents is a review comedy show and the most popular series on Dyercentral. It is currently in development for its third season. 
Overview
Edit
Synopsis
Edit
Chadwick Jones Presents is the story of Chadwick Jones, a tortured man with a fractured past who is forced to review bad movies for the amusement of others. As the storyline continues new mysteries are discovered and the world becomes a lot more complicated.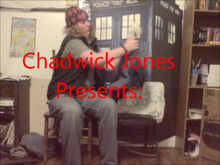 Production History
Edit
Creator Glenn Dyer originally came up with the idea for the show whilst working on his vlog style series A Dyer-Situation. The initial concept was a review show similar to that of Doug Walker's The Nostalgia Critic, only with a slowly developing storyline that linked the reviews together.
The first episode debuted on January 13th, 2013 and the first season concluded after eight episodes on February 8th, 2014. The second season began on July 2nd, 2014 and concluded after 19 episodes on December 8th, 2016.
Theme Songs
Edit
Season 1
Edit
Main Theme - "Yor's World" by Guido & Maurizio De Angelis
Season Finale Theme - "Doctor Who Theme" (Seasons 18-22) arranged by Peter Howell
Season 2
Edit
Season 2 Intro Theme - "Yor's World" by Guido & Maurizio De Angelis
Main Theme - "Alf Theme Song" by Alf Clausen
Season Finale Theme - "Main Theme of MGS3" by Harry Gregson-Williams and Norihiko Hibino
See Also
Edit
Community content is available under
CC-BY-SA
unless otherwise noted.